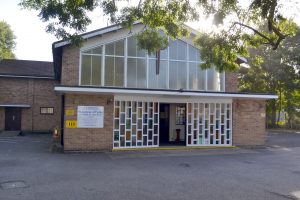 Take a look at some of the events coming up in the parish calendar.
Saturday 16th September – St Anthony of Padua BBQ and Barn Dance 7.30pm
Tickets are now available for St Anthony of Padua BBQ and Barn Dance 7.30pm on Saturday 16th September in the Church Hall £5 for adults, £2.50 for teenagers, children FREE.
Please see Lydia Vella, Bettina Houlihan or Andrea Feucht for ticket sales, or email lydia.r.vella@gmail.com to book. If you would like to come but the cost makes it difficult, please talk to the ticket sellers and they may be able to help.
 Saturday 9th September – Annual Ride & Stride
Once again we are taking part in this annual fundraising event to raise funds for church repairs across Oxfordshire – half the money raised will go to St Anthony of Padua. Last year (and in pouring rain!) the youngest participant was 3 months and the oldest was 94 years – so all are welcome to take part.
You can support in three ways:
Take part:
Pick up a sponsorship form from the back of church; visit the new website at https://ohct.org.uk/ride-stride/ or contact Bob Donaldson or May MacPherson for further details.
Sponsor a Strider:
We know that those taking part will welcome some sponsorship (or you can make a donation via the website above)
Be a welcomer:
Volunteer to welcome riders and striders who come to St Antony of Padua's church on the day.
3rd December, Sunday: Christmas bazaar.
Further details will be available in September when we will be collecting any unwanted presents, bottles, etc. Thank you.
 Cake Sale
A Cake Sale will take place every first Saturday/Sunday of the month just after Mass, at the back of the Church, to raise funds for the Church. Please feel free to take a muffin and donate whatever you would like. Thank you.
 Social Events
Feast of St Anthony of Padua – Tuesday 13th June 2017: early evening mass followed by bring and share supper in the hall.
Church Family Picnic – Sunday 9th July 2017: bring and share picnic for all St Anthony's communities after Sunday masses in the park opposite the JR Hospital (in the hall if raining).
Church BBQ/Barn Dance – Saturday 16th September 2017: ticket event for BBQ and barn dance following Saturday evening mass.
Children's Christmas Party – Saturday 16th December 2017: afternoon Christmas party for all children and families.
International Evening – Saturday 3rd February 2018: bring and share buffet with international theme after Saturday evening mass.