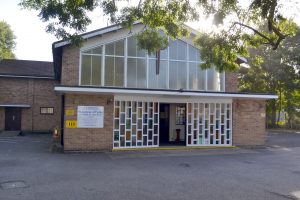 Take a look at some of the events coming up in the parish calendar.
Bingo & Raffle Night, 6th November at 7.30pm
By: The Catholic Handicapped Fellowship Oxford Group
At: Between Towns Road, Cowley.
See Poster in Notice Board. Proceeds to support the Fellowship Lourdes Pilgrimage Fund.
For more details, contact John Denning & Ann Ong in the Parish.
"Hostia" – Evening discussions in November.
We are re-commencing our popular informal evening discussions about matters of faith, with two sessions on the place of the Eucharist. Holy Communion is the source and summit of Catholic belief, why? Come and see (or remind yourself). Short videos followed by discussion. Refreshments from 7.15pm, sessions run from 7.30pm to 8.30pm in St Anthony's Parish Hall, on Thurs 15th and 22ne November. All are very welcome, do bring a friend.
Christmas Bazaar – Sunday December 2nd 11.30-2.00pm
The main raffle tickets are now available to buy and to sell to your friends and family. Please take a few books after mass.
Items needed:
Bottles for the bottle stall
Unwanted and unused gifts for the gift stall and to use in the hampers
Nearly new children's toys, books and good quality bric-a-brac
There will be boxes available at the back of church for these, on a Saturday evening and Sunday morning. If you are bringing items in at any other time of the week please leave them with Father Pius. We also need cash donations to help with the running of the bazaar which you can give to Penny or Father Pius. Thank you to those who have already offered their help. Any further offers of help, for running stalls or preparing hampers would be gratefully received. Penny Jenner – Tel: 07810893011