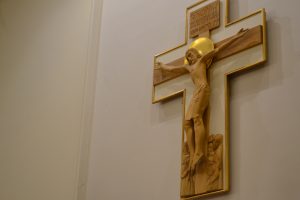 Mass is celebrated every day, with various other services held frequently.
Masses are public and live-streamed at the times given below (see stanthonyofpadua.org.uk/livestream/).  
Public Masses for the next week.
Weekday and Saturday morning Masses at 9 am.
PLEASE NOTE from Ash Wednesday onwards there will be a weekday evening Mass at 6:30pm.
Private prayer with exposition of the Blessed Sacrament is from 5:45 – 6:15 pm on Saturday.
Confessions can be arranged by appointment  or can be heard between 5:45 – 6:15 pm on Saturday (during exposition of the Blessed Sacrament).
The Rosary is recited after the 9 am Friday Mass.
PLEASE NOTE that there is now a regular 8.30am Mass on Sunday (no music).
RECENTLY DECEASED: Kindly remember in your prayers Jean Collard and Patricia Wilson. Eternal rest grant unto them O Lord, and let perpetual light shine upon them. May their souls and the souls of all the faithful departed rest in peace, Amen.
Please pray for the sick and housebound of the parish: Ann Ashfield, Fr John Baggley, Pat Hodgson, Elizabeth Johnson, Frank and Helen Kennedy and Margaret Wipp.
Please pray for those who have recently died and those whose anniversaries occur in April: Jean Collard, Gerry Buck, Ted Busbey, Edward Murphy, Ann McNally and Leonardo De Guzman.
Download the bulletin for this week's intentions.
New Mass intentions or the names of those for whom you would like us to pray should be sent to the Parish Office address by email or phone (01865 762964  or 07484 271876) by 10 am Sunday one full week in advance for guaranteed inclusion.
It is important to reaffirm that, at present, the obligation to attend Sunday Mass remains suspended.