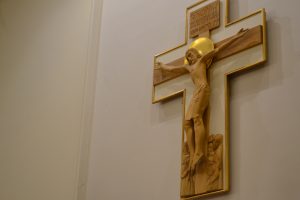 Mass is celebrated every day, with various other services held frequently.
At the moment, Mass is being celebrated on weekdays at 10 AM  from St Anthony of Padua which is live streamed on Facebook here:
In light of the easing of restrictions on worship with congregations, due to the Coronavirus outbreak, the Bishops' Conference of England and Wales has decided to re-start limited congregational Masses with certain restrictions in place. Please click here to see the letter from the Bishop's Conference.
From Sunday 5th July, Mass will now be said in St. Anthony's by the parish clergy with a congregation on Sunday at 10.00am and on Saturday at 6.30pm (Vigil). Click here to see guidance for visitors attending public Mass at St Anthony's. Download the bulletin for this week's intentions.
It is important to reaffirm that, at present, the obligation to attend Sunday Mass remains suspended.