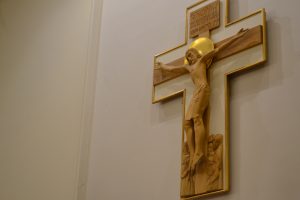 Mass is celebrated every day, with various other services held frequently. On Holy Days of Obligation, or for another pastoral reason, the parish may offer an additional Mass. See the bulletin for this week's services and Mass intentions.
Stations of the Cross – Monday – Friday after the 9am Mass and at 7pm every Friday during the season of Lent.
Holy Week – Easter 2018
Chrism Mass – 11.30am St. Chad's Cathedral on Wednesday 28th March.
Holy Thursday 29th March – Mass of the Lord's Supper at 7.00pm.
Good Friday 30th March – Liturgy of the Lord's Passion at 3.00pm.
Holy Saturday 31st March – Easter Vigil at 8.30pm.
Easter Sunday 1st April – Solemn Mass of Easter Day at 10.00am.
Saturday
9:00am Mass
5:30pm Confessions
6:30pm Vigil Mass for Sunday
Sunday
10:00am Sung Mass
12:00pm Polish Sung Mass
Monday
9:00am Mass
Tuesday
9:00am Mass
Wednesday
9:00am Mass OR 9:30am Mass with children. Check this week's bulletin.
1:00pm Mass at the JR Hospital Chapel
Thursday
8:20am Adoration
9:00am Mass
Friday
9:00am Mass