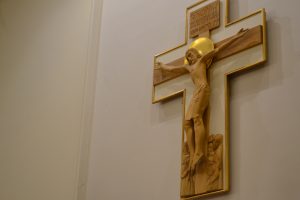 Mass is celebrated every day, with various other services held frequently.
Masses are public and live-streamed at the times given below (see stanthonyofpadua.org.uk/livestream/).  
Public Masses for the next week.
Weekday and Saturday morning Masses at 9 am.
Private prayer with exposition of the Blessed Sacrament is from 5:45 – 6:15 pm on Saturday.
Confessions can be arranged by appointment  or can be heard between 5:45 – 6:15 pm on Saturday (during exposition of the Blessed Sacrament).
The Rosary is recited after the 9 am Friday Mass.
New Mass intentions or the names of those for whom you would like us to pray should be sent to the Parish Office address by email or phone (01865 762964  or 07484 271876) by 10 am Sunday one full week in advance for guaranteed inclusion.
Download the bulletin for this week's intentions.
It is important to reaffirm that, at present, the obligation to attend Sunday Mass remains suspended.