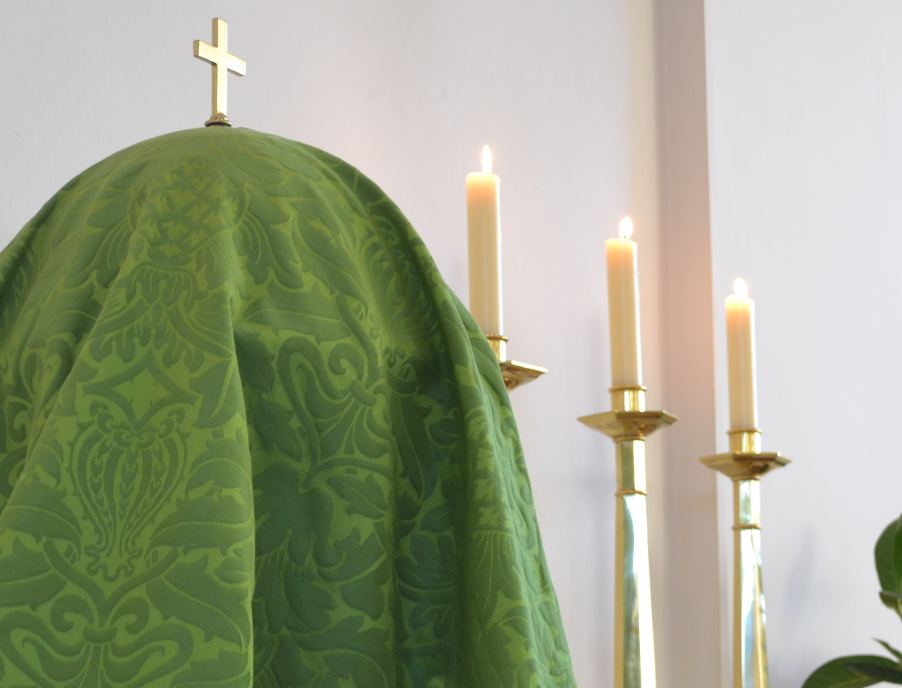 Coronavirus matters:
Latest guidance from the Catholic Bishop's Conference (as of 15th May 2021). The important points for church use are summarised:
NOT CHANGED: Hand sanitiser still needed at entrance and exit, face coverings still to be worn, church still to have adequate ventilation, social distancing still needs to be respected, holy water fonts remain unfilled, still no congregational singing allowed, no sign of peace, stewards remain necessary for busy Masses and track and trace system still needed.
CHANGES:
• Church cleaning can be reduced to daily, other than for very frequent touch points.
• Statues can be touched but not kissed.
• Incense can be used.
• No need for readers to sanitise at the lectern (although touching of the lectionary should be limited).
• Bidding prayers can be reintroduced to Mass.
• The offertory procession can be reintroduced (after hand sanitising).
• Holy Communion remains of one kind only but the priest can now say "Body of Christ" to each communicant, and we can reply "Amen".
• Home visits now allowed by priests and Extraordinary Ministers of the Eucharist (Covid precautions still apply during visits).
Fr Mark and the Pastoral Team wish to:
> reiterate that the obligation to attend Sunday Mass is still suspended;
> remind you that those at high risk or shielding should seriously consider staying at home and, if possible, attending Mass online (see the Mass times below & stanthonyofpadua.org.uk/livestream/);
> remind you of our social distancing, mask wearing and ventilation policies at church (see below);
> reassure all volunteers (readers, cleaners and stewards) that if they feel uncomfortable attending Mass that they should not feel pressure to do so (but please notify the relevant organiser).
Mass times and church opening.
All masses are now public and live-streamed at stanthonyofpadua.org.uk/livestream/
Weekday and Saturday morning Masses at 9 am.
Private prayer with exposition of the Blessed Sacrament is from 5:45 – 6:15 pm on Saturday.
Confessions can be arranged by appointment or can be heard between 5:45 – 6:15 pm on Saturday (during exposition of the Blessed Sacrament).
The Rosary is recited after the 9 am Friday Mass.  see the mass intentions in the bulletin.
Live streaming of public masses.
Because St Anthony's is now streaming all masses, altar servers, Eucharistic ministers and readers are required to sign a consent form allowing their images to be
broadcast.
PLEASE NOTE CHANGE IN CAMERA ANGLE: From Monday May 31st the camera to be used for streaming gives a full view of the altar and approximately the front third of the church. As a result, the backs of parishioners will be visible in the first few pews and of all communicants when returning to their seats. At weekend Masses if you do not want to be shown on camera at any time please take advantage of the seating in the hall, where mass is live streamed onto a screen (and Holy Communion is brought through).
It is important to reaffirm that, at present, the obligation to attend Sunday Mass remains suspended.
———————————————————————————————————————————————————————————————————-
In case of urgent need due to illness, whether Coronavirus-related or otherwise please get in touch with the Parish Office by emailing stanthonyop.oxford@rcaob.org.uk, or phoning 01865 762 964.
If you or someone you know in the parish is self-isolating and is in need of any support, such as help with shopping or a chat on the phone, please get in touch with the Parish Office by emailing stanthonyop.oxford@rcaob.org.uk, or phoning 01865 762 964.
It is anticipated that Corpus Christi Parish in Headington will continue to be live streaming weekday and Sunday Mass without a congregation, and more details can be found at https://corpuschristiheadington.co.uk.
As Cardinal Vincent Nichols writes today, 'During these disturbing and threatening times, the rhythm of the prayer of the Church will continue. Please play your part in it. The effort of daily kindness and mutual support for all will continue and increase. Please play your part in this too. For your commitment to this, we thank you. "The Lord is my shepherd, there is nothing I shall want."'